You are here

3rd Annual International Women's Day Event
3rd Annual International Women's Day Event
Date:
Wednesday, March 3, 2021 -

9:00am

-

11:00am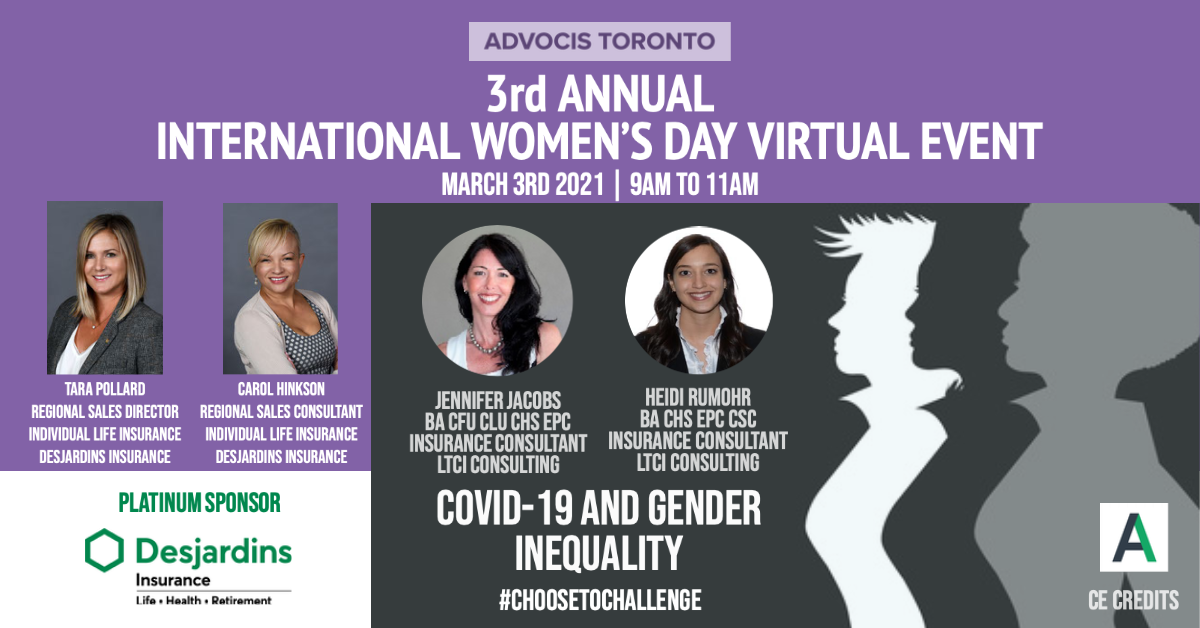 This event will deliver insight into how the pandemic has disproportionately affected women and how to thrive going forward. Although the pandemic has changed all lives, women have felt an added pressure to find balance. This session will discuss the changing roles and adjustments women are facing through these disruptive times.
We hope to help empower you and your clients with knowledge and tools to prepare you to move forward in 2021. We will review the last 18 months and ways that you can address and help women to thrive post pandemic.
As a benefit of membership, you are entitled to view this webinar for $15.00 per ticket ($25 for non-members).
Use your Advocis Membership ID to trigger the promotional discount in Eventbrite.
Guest Speakers:
Jennifer Jacobs BA CFU CLU CHS EPC
Jennifer has specialized for more than 20 years in advising, implementing, and servicing holistic insurance-based solutions for clients through direct and advisor partnership services. With strong team support through LTCI Consulting Inc, she is able to work closely with each client to provide a perspective on long term planning issues that extend beyond the use of only life insurance.
Jennifer and the team at LTCI Consulting Inc are a nationally recognized resource, promoter and expert in Insurance planning with a specialization in Living Benefits and Long Term Care Insurance.
Jennifer's passion is contagious, and approach is straightforward: straight talk. Indeed, her direct but ultimately compassionate style, as well as her continual ranking among the top specialists nationally, made her a sought-after keynote speaker by prominent organizations such as PPI, MDRT, CALU, Advocis, HollisWealth, Desjardins Insurance, Sun Life Financial, Investors Group, BNI, Estate Planning Council and elite independent study groups.
Jennifer is a current board member and the Chair of the Living Benefits Committee for the Conference of Advanced Life Underwriters (CALU). Jennifer is a Certified Financial Planner (CFP®), Chartered Life Underwriter (CLU), Certified Health Specialist (CHS) and an Elder Planning Counselor (EPC).
Heidi Rumohr BA CHS EPC CSC(in training)
Heidi is an Insurance Consultant with a specialization in Living Benefits and Cash Flow Planning. She has been helping clients and advisors since 2003. She is a locally recognized speaker, promoter and expert in Insurance planning, with a passion to help women become empowered with their finances.
Heidi has a strong passion for educating and empowering others. She identified that the best laid plans are only as useful as the cash flow to pay for them. Her goal is to help others gain power through financial literacy so that implementing insurance solutions are comfortable and of benefit for the long and short term.
Heidi has recently partnered with Jennifer Jacobs at LTCI Consulting Inc. to grow a team which can help make sure more Canadians have secured the knowledge and tools to protect themselves and their family for life and death. Heidi's approach is to make complex insurance strategies simple and easy to understand.
Heidi is a Certified Health Specialist (CHS), an Elder Planning Counselor (EPC) and Certified Cash Flow Specialist in training (CCS). On a personal note, she is married to her wonderful husband Lee and they have two young boys; Easton aged 4 and Bexton aged 2.5.
CONTEST
Desjardins Insurance is a proud sponsor of Advocis' 3rd Annual International Women's Day in Toronto on March 3rd! Here's a sneak peak of what you can bring home with you:

Prize #1: 1 Year Membership to WXN
Prize #2: Apple Airpod with Charging Case
Prize #3: Matt & Nat Women's Briefcase
Click here for the full contest rules.
Register: https://www.eventbrite.ca/e/advocis-torontos-3rd-international-womens-day-event-tickets-140404490611?aff=ebdsoporgprofile